FCM, together with the Helmholtz Institute of Freiberg and the Technical University of Freiberg recently was honored with the Deutscher Rohstoffeffizienz Preis (Efficient Use of Raw Materials and Natural Resources). This award, sponsored by the German Federal Ministry for Economy and Energy, is designed to reward companies developing outstanding resource- or material-efficient products, processes or services.
Each year, four companies and one R&D organization receive awards of 10,000 Euros. The award ceremony took place on December 4, 2014 at the Efficient Use of Raw Materials conference, where Uwe Beckmeyer, Parliamentary Secretary of State in the Ministry for Economy and Energy, and Prof. Dr. Hans-Joachim Kuempel, President of the Federal Institute for Geosciences and Natural Resources presented the prize.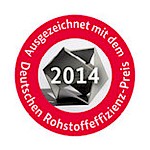 Efficient Use of Raw Materials and Natural Resources
Ministry for Economy and Energy
FCM and Partners Receive Prestigious Eco-Award
The prize was awarded to honor the joint development of a process to recover gallium from the wastewater stream in FCM's GaAs production facility. In view of the continuous price pressure in the semiconductor industry, FCM has always focused strongly on conservation and recycling of raw materials.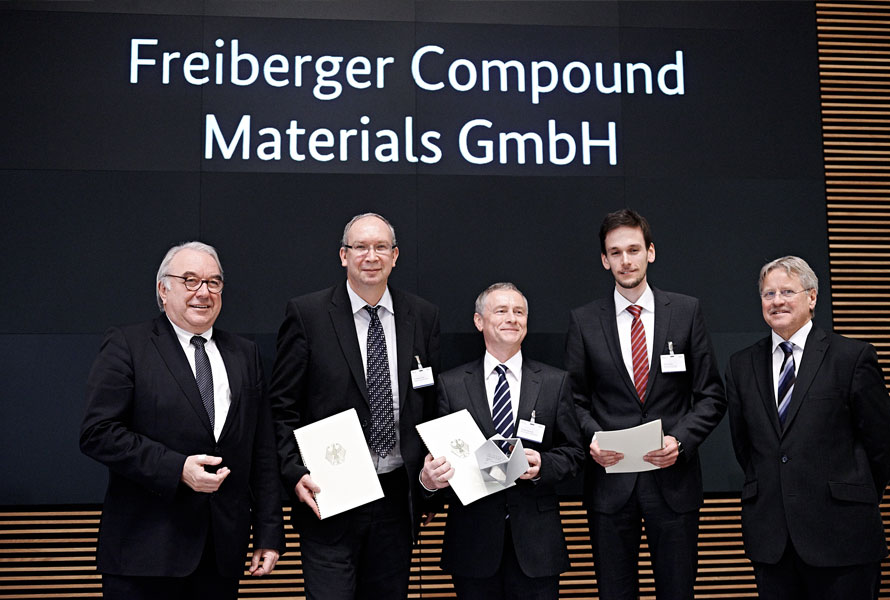 Manufacturing processes are designed and optimized to recover and reuse as much as possible. While FCM has been recycling the gallium from solid sources for some time, this new process allows us to also recover the gallium in the liquid waste streams. The new technology is based on the selective passing of various ion types through a membrane (dialysis). By applying this process in all steps along the value chain for the production of semiconductor devices, the consumption of virgin gallium can be reduced by up to 16%. This joint development project was funded by the Ministry within the project entitled Improvement of the Efficiency of Gallium Utilization in the Production of GaAs Substrates.